About Us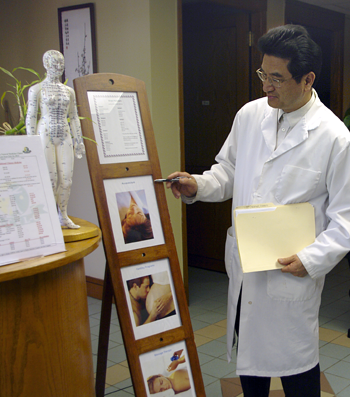 Our Philosophy and Goals
We are practitioners with various specialties working as a team. We share a mutually supportive vision, belief and goal towards healing. We are dedicated to providing high quality professional natural health care services to our patients and clients.
We believe the human body, mind and spirit are connected. True health means the whole person (body, mind and spirit) is in perfect balance and in harmony with nature. Our clinics also include student practitioners from the Canadian College of Acupuncture and Traditional Chinese Medicine.
Our goal is to help people gain and maintain the highest possible level of health and well-being through the use of natural health care methods, medicines, and products.
How We Can Help You
We provide a wide array of innovative tests to evaluate your condition on a holistic level.
We provide personalized treatment programs for you based on your conditions.
We focus on the whole person (mind, body, and spirit).
We not only treat symptoms, but also the cause of the disease.
We use safe and effective natural therapies to help your body re-balance and heal itself.
We strengthen your immunity to help you prevent diseases and maintain health.
As a team, our skills and knowledge are combined to meet your needs holistically.
No matter your health challenge, the S-T/L-C's team of practitioners can help you get better.
We respect all of our patient's needs. Healing to us means bringing the body, mind and spirit back into harmony. Healing occurs when the patient's needs are validated and the patient is empowered to live his or her life fully. Healing occurs in a place where the patient truly feels safe, supported and cared for.
We are fully committed to your journey back to wellness. We are dedicated to a fuller, happier, and healthier you.

We would be honored to have you trust us with all your health needs. We would be delighted to earn the opportunity to be your personal team of complementary health-care providers.

We know you will be glad to have chosen us, just like the thousands of other patients who have achieved great results with us.

We also offer advanced testing methods - Vega Allergy Testing, Live Blood Testing, and Organ Function Testing.

We also offer Traditional Chinese Medicine Diagnosis - Pulse, Tongue, Ear, and 14 Meridian Diagnosis.

We are affiliated and integrated with the Canadian College of Acupuncture and Traditional Chinese Medicine.